VOICE BI- THE NEW FRONTIER

Voice based systems are revolutionizing human-systems, making technology access a call away.
Overloaded dashboards and complicated reports belong to the past, voice enabled BI has the potential to let people talk to their data and access them, anytime – anywhere.

Experience our White Paper on Voice BI to have a better understanding on this.
23 OCT 2018
Digital Voice Assistance: EVA

Industry experts are predicting that 50% of all searches will be voice searches by 2020. People can talk faster than they can type.

Machine Learning & AI are pushing the boundaries of voice recognition and voice based interactive systems to new heights. A survey by Forbes shows that the main challenge towards adopting AI in the workspace is consumer trust. 41.5% respondent could not site a single example of AI they trust.

For example, Bank-by-voice service is started by Regional banking giant U.S. Bank allowing Alexa, Siri & Assistant to do balance inquiry, pay credit card bills and mortgages; fund transfer is not enabled but with Zelle, a Bank-to-Bank transfer system in the US, it will soon become a reality. Alexa based Voice BI, a prototype solution developed by ESSPL, can allow people to talk to their BI dashboards. It can sit over an existing BI infrastructure and provide on-screen visualizations real-time from anywhere -anytime.

ESSPL has been closely working with industry leaders in supply chain & logistics domain for past 20 years and has been providing them with a multitude of solutions in supply chain visibility, operational planning, processing, optimization, and business analytics.

EVA or ESSPL Voice Assistant is an innovative solution from ESSPL and is developed using Alexa skills platform of AWS, which allows people to be able to talk to their analytics reports, query information, slice 'n' dice.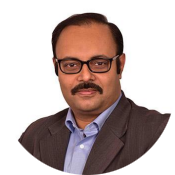 Hritam Chakraborty, is the Head of Solutions & Innovations function of ESSPL, responsible for providing thought leadership towards emerging trends in the domain and tech space. His expertise areas are supply chain domain solutions using existing and cutting edge technologies like voice integrated systems, Blockchain and RPA. He has worked in the IT services for close to 20 years.